Buttocks implants are very common nowadays in our societies but as to "how it affects human" is always a secrete. A young lady has met her untimely death after a failed butt enlargement surgery which took her life at an early stage.
The deceased young lady who is believed to be below her 30's is said not value her normal goodies which made her troop in for a larger size unfortunately leading to her early death.
According to lady @papa_addae who posted it on her twitter handle, her aunt died after a failed Brazilian Butt lift (BBL). Papa_addae is of the view that, even though she does not condemn the act but women nowadays should also learn to value and love what ever they have.
She does not see reasons why someone will troop in to enlarge body parts just to compete with others or to impress social media fans.
She wrote:
"My aunt died from a BBL procedure today. I'm not shaming BBLs at all but learn to love yourself before social media makes you feel like you aren't enough. I'm gonna miss her crazy fun self so much. May her soul rest in perfect peace"
See photo below.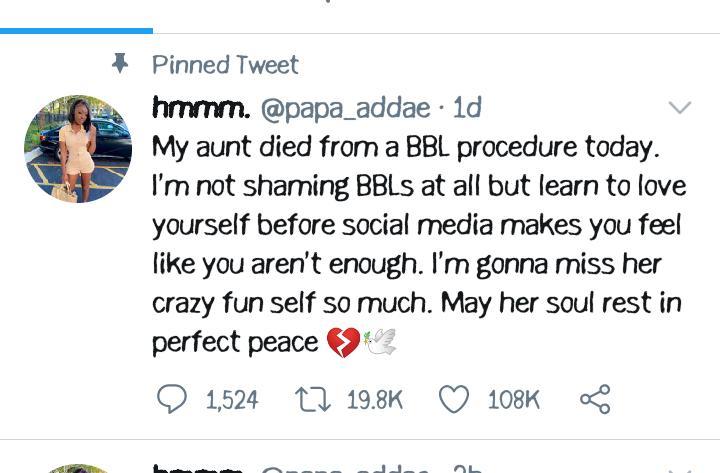 Read also: Video: Husband Catches wife teaching Colleague bedmatics in their matrimonial home