A young man on twitter has regretted voting for Akuffo and his New patriotic party, NPP, claiming that, Sarkodie endorsed them and that is the reason why many Ghanaians fell for their lies.
According the man identified as Asepa Ghana on twitter, Sarkodie took money from the new patriotic party, NPP, and told us in a song to vote them into power because of free education, free water and free electricity.
Asepa Ghana has shown deep regrets for a solid and prominent brand like Sarkodie to endorse such political party. To him, Sarkodie endorsed 4 years of sufferings to the people of Ghana.
The multi award winning rapper, Sarkodie, endorsed NPP in a song dubbed "New day" featuring Kwame Eugene prior to December 2020 presidential elections. He praised him for "Free education" policy and said "Nana Toaso".
See post below.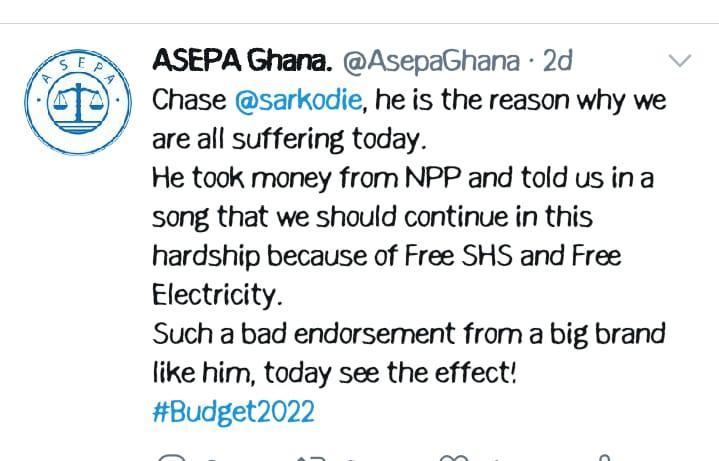 The so call free water and electricity offered in 2020 is the reason why there is sudden increase in prices of commodities in the country. There has been increment in taxes and foreign commodities which literally affects prices of goods and services. But Salaries still remains unchanged.
Celebs: Hajia Bintu photos without Makeups scare fans (Photos)