For years, a young girl has finally broke records of the youngest mother in Nigeria after she became pregnant at the age of 11 leaving everyone amused.
In the normal circumstances, a girl at her age cant ovulate and therefore no pregnancy for such kids even if they play the adult game. But her case is so different.
A Nigerian man on Facebook with the username Hrh Alhaji Yousouf took to his timeline to post picture of the pregnant young girl who is about to become the youngest mother in Nigeria.
He wrote.
"But but northerners de marry too early …. now this 1 is not married yet she's pregnant which is legitimate (Marriage or fornication). 11 year old Biafaran (delta) girl about to be the youngest mother in Nigeria".

And she seems very excited.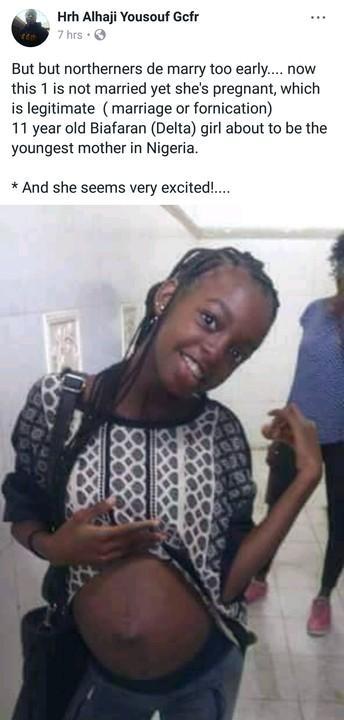 As Netizens are thinking of how she will manage to give birth at her age, the young girl seems to be so excited in the pictures posted, she stood in a stylish way with a smile.