Top class Nigerian musical fame David Adeleke, known in showbiz as Davido has unveil the amount of money he made in 2021 on his social media handle.
According to Davido OBO, he made a total of 22.3 Million dollars in 2021 which is equal to 13 Billion Naira.
He made this known to his fans on his status with laughing emoji's. Some social media users made fun of him as they claim his money never reach 30 billion dollars.
See post below.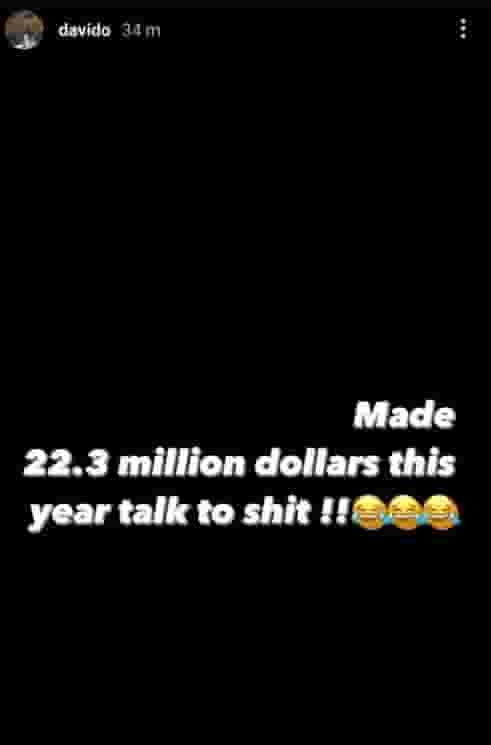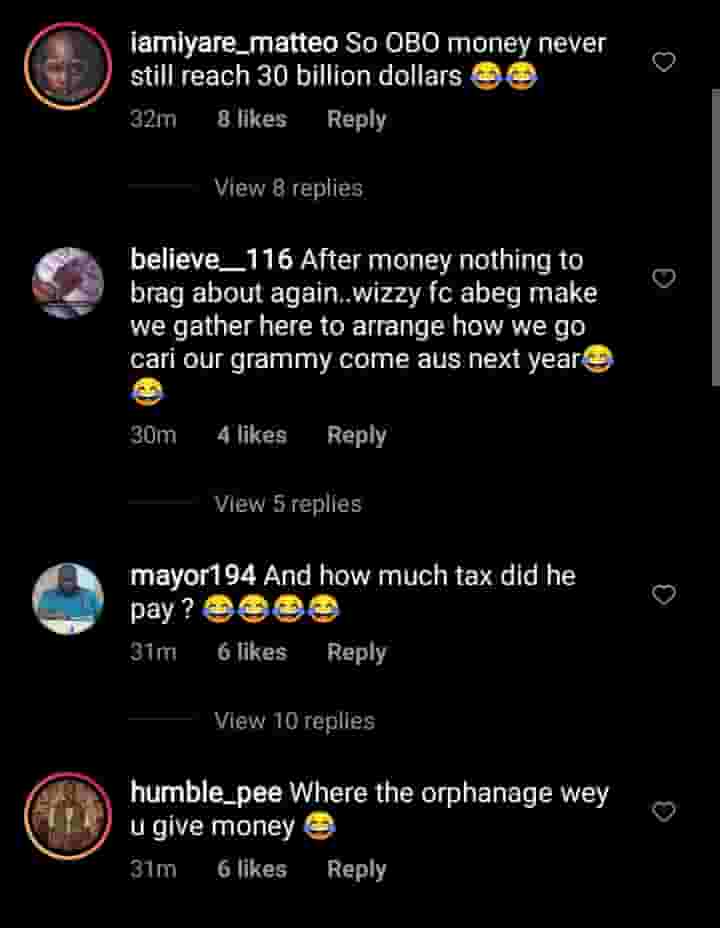 Davido Net Worth
David Adeleke popularly known as Davido OBO is a Nigerian musician who's father, Dr Adedeji Adeleke, is counted as one of the topmost billionaires in Africa. He is worth $29 Million in 2021.
Apart from being from such an affluent family, he is a hustler who wants to build his own wealth and name rather than relying on his father's riches.
Many people are curious about Davido's riches, others believe it comes from his father. Davido, on the other hand, has worked hard to make himself wealthy, as seen by his numerous endorsement deals.
According to Forbes, Davido is one of the African singers that produces and releases songs that chart at the top of various music charts.
Forbes has compiled a list of albums that have been regularly charted and marked cultural occasions for Africans on the continent and in the diaspora.
Endorsements have also poured in as a result of his work with a number of well-known businesses, including Guinness and MTN Nigeria.
His musical and parental background has earned him a lot of money in the previous years. Davido posses private jet, latest expensive cars, jewelries worth millions of naira, houses and others.
In 2018, the artist bought an expensive car worth 50 million Naira for his girlfriend when she was celebrating her birthday.
In December 2021, he spent $550,000 on wrist watch and same on Lamborghini which summed up to $1.1 million.
Read below: Davido wrist watch and Lamborghini price revealed, details below
Davido Endorsement Arrangements
Davido is a brand ambassador for a number of multi-billion dollar corporations, including AXE, Travelbeta, Pepsi, MTN, and others.
Aside from his ambassadorial positions, he is also reaping the benefits of his tireless studio work, with several multi-million dollar firms eager to sign him to endorsement deals.
Davido inked a N30 million endorsement agreement with MTN, Africa's largest mobile network, on April 6, 2012.
Davido was then announced as the face of MTN Pulse, a youth-oriented marketing campaign in Nigeria.
On October 24, 2013, the Guinness Company supported Davido, who performed among other notable Nigerian musicians such as Olamide, Wizkid, Tiwa Savage, D'banj, and others in the "World of More Concert."
On 9th May 2018, Davido struck a contract with Infinix Mobile, a Chinese smartphone manufacturer.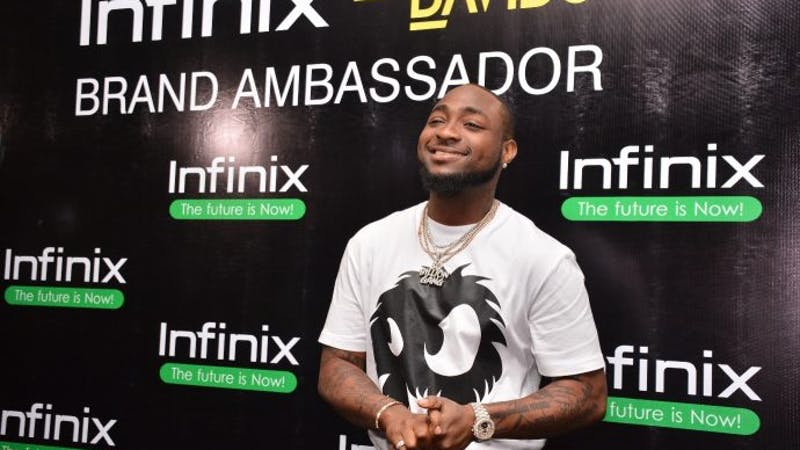 Other sources of Davido's Income
Davido's income comes from a variety of sources.
Music is Davido's main source of revenue; he charges a lot of money for his performances and shows. This played a role in the growth of his net worth.
Davido charges between N10-N40 million for local shows, while earning between $100 000 and $200,000 for international performances, a significant amount to add to his net worth.
Davido, as a well-known musician, visits about 40 performances per year. When the number of shows stated is multiplied by the amount of money he earns, Davido's extra effort equals his net worth.
Davido's YouTube videos have over 663 million views, a platform that has helped him raise his income and net worth.
Davido formed DMW in 2016, shortly after negotiating a deal with Sony Music. Mayorkun was his first major signing with DMW. Davido's DMW became yet another source of money for him.
Even though he is making money and expanding his net worth in the DMW, Davido has assisted in the development of many great musicians in Africa.
"People fail to comprehend you can't remain on top forever," Davido stated of DMW, "having these artists helps me stay afloat and be current with fresh material."
To be clear, Davido is a young singer whose net worth is derived through his unwavering dedication to the music profession, not from his father's fortune and celebrity, as some have thought.
Davido's net worth is estimated to be 29 millions dollars.
Davido's Lifestyle
Davido, who has a net worth of more than $25 million, is known for his lavish lifestyle. He is constantly bragging about his shiny and expensive possessions.
Davido's Instagram handles once posted a photo of his family's private jet on social media, which drew a lot of praise and criticism from fans and detractors alike.
He also used Twitter to express himself. I've already purchased it. It's not soup; it's grit and determination! Many complimented him, while others criticized him for his audacity.
He also wore a Rolex watch that he purchased for his PA Santusgee in Dubai. Santusgee didn't even bother to post about it on Instagram.
He wrote on Instagram page THE PANDEMIC COULDN'T STOP ME! ROLLY GANG !#30BG4LThanks@davido!
His lavish life made some assume his net worth is beyond $25 million.
Who is richer between Davido and Wizkid 2021?
Between Davido and Wizkid, we can proudly say Davido is currently richer than Wizkid following the recent properties he bought before the end of 2021.
Even though Wizkid has not announced the amount he made in 2021. But comparing their properties for now Davido is on top.
He also doubles as son of popular Nigerian Billionaire Dr. Adedeji Adeleke.