Ghana Education service (GES) in a letter today revealed Teacher Kwadwo has been sacked over reasons which seems funny.
The comedian who also hold professional certificates in education revealed in a post that, his district joined forces with Ghana education service (GES) to serve him a letter to exit from service as a teacher.
Teacher Kwadwo first posted a letter enclosed in an envelope where he said, GES sacked him over funny reasons.
Because of professional reasons, he did not post the content of the letter online but he rather summarized everything about it stating that, GES sacked him and more details will soon flow in the media.
He assured everyone to stay tuned as he dive into the matter stating that, it is going to be war between him and Ghana Education service (GES).
In his words, Teacher Kwadwo wrote:
"Okay, so for some "PROFESSIONAL" reasons I can't post the content of the letter here but all that is in the letter is that My District Education Office through the Ghana Education Service says that, they have sacked me.
Their reasons are very funny.This is going to be the 1st ever TEACHER vs GES fîght in the history of Ghana Education.
Y'all relax because it will be all over the news soon and y'all will know the head and tail of it.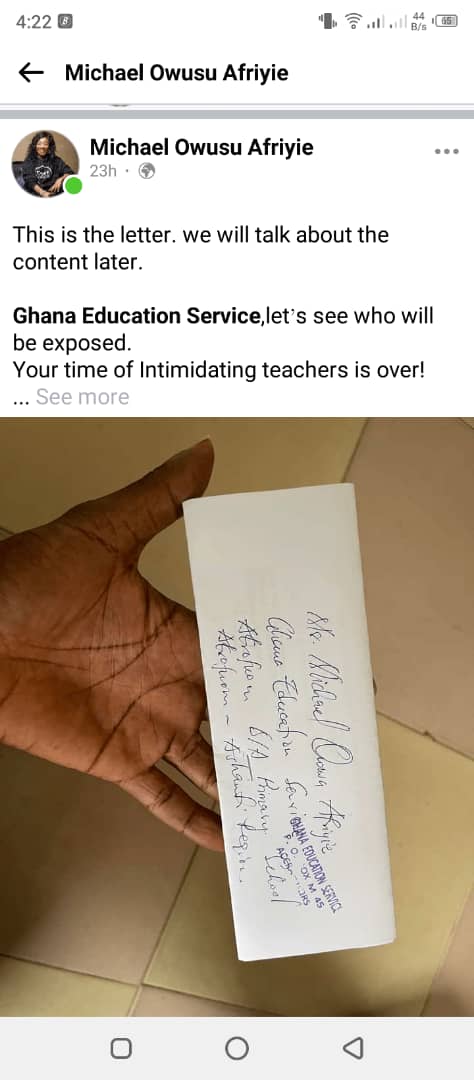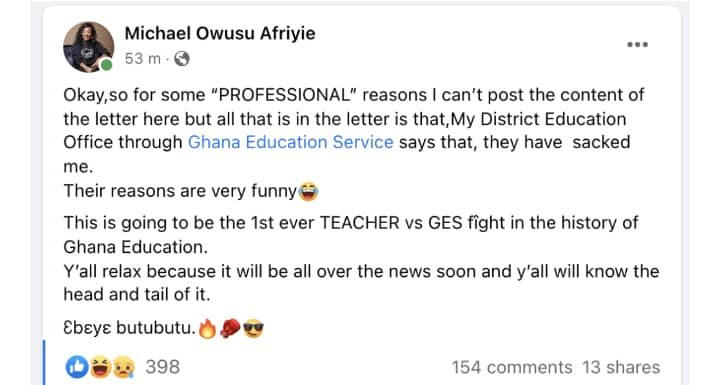 Read also: Yaw Tog Wassce Results Finally Revealed (+Screenshot)