A 26 year old man identified as Aliyu Na Idris, a resident of Kaduna State Nigeria, has put himself out for sale due to economic hardships that is hitting the country.
According to information reaching us, this man has been walking around Kano with a placard which reads "This man is for sale for 20,000,000 Naira. The placard contains his name and bank account number which will be use to receive the said amount.
He is said to be a tailor by profession. Aliyu first marketed himself in Kanu but he couldn't get a buyer, as a result, he moved to Kaduna in search of buyer six days today.
Aliyu revealed that, he lost most of his customers and his tailoring business failed gradually as a result of financial challenges. So he decided to sell himself for survival because it is the only option left for him.
Even though Aliyu got buyers who offered to pay N10m, N5m and N300,000 but he declined the offer because, it is less than his expectation.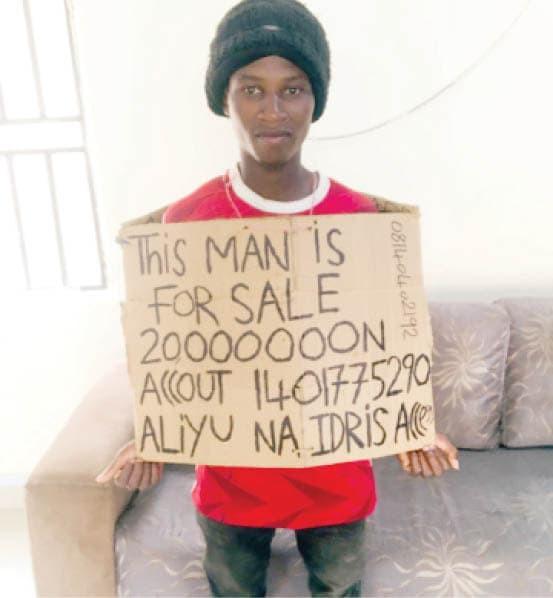 Explaining his sale price to Daily trust, Aliyu said "I will give N10m to my parents, N5m to the state where i will be bought, N2m to any person who assist in advertising me and the remaining N3m to the one who buys me so he use it for my maintenance".
Aliyu fully understands that he will loose his freedom when bought, but he is not worried about that. Adding that, he is ready to reap fruits off what he is sowing now.
He further said he will relocate to another state if he doesn't find any buyer in Kaduna.